Prep time: 3 min
Cook time: 10 min
Ingredients:
2 cups of Brussel sprouts – about 15 large Brussel sprouts chopped in halves
4 tablespoons of Avocado Oil
3 tablespoons of soy sauce – I like low sodium gluten free soy sauce incase we have a guest over that has celiac
3 tablespoons of garlic powder
A teaspoon of salt
1/3 cup of pumpkin seeds
4 tablespoons of Maple Syrup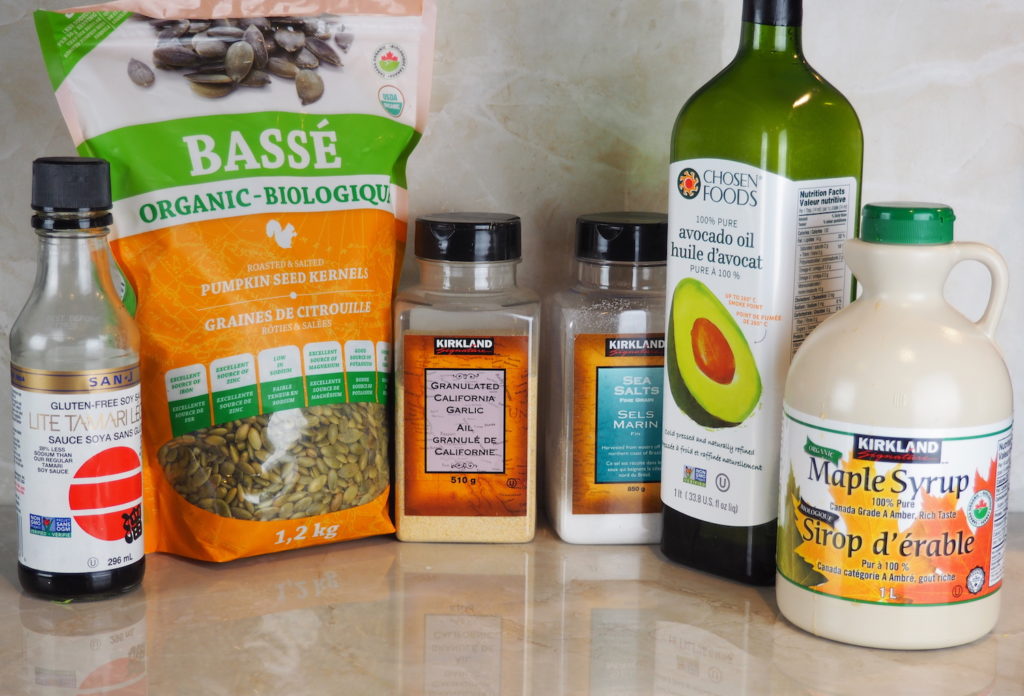 Tools and Utensils
One cast iron or non-stick pan, personally I like the cast-iron pan because it gives the Brussel sprouts a nice crispy texture
Spatula
One sharp Knife
Directions
Have all your ingredients ready-to-go beside the stove, this dish needs to be cooked quickly.
Step 1: Cut the Brussel sprouts in halves and place them face down in the cast-iron or non-stick pan.
Step 2:Place the pan on the stove-top and heat up your cast-iron pan to high – let the Brussel sprouts cook (without oil or any other ingredients) for 3-5 minutes until the bottoms become crispy and charred.
Step 3: Add 1/2 cup of avocado oil and mix the Brussel sprouts and cook for another 1-2 minutes.
Step 4:
Lower the heat of the pan to medium.
Add 3 tbsp of soy sauce and mix, and cook for 1 min.
Add 3 tbsp garlic powder, tsp salt, and mix 1 min.
Add 1/3 cup of pumpkin seeds and mix.
Add 1/4 cup maple syrup, and mix for 1 min.
When the maple syrup has reduced to a glaze, remove from the pan and serve