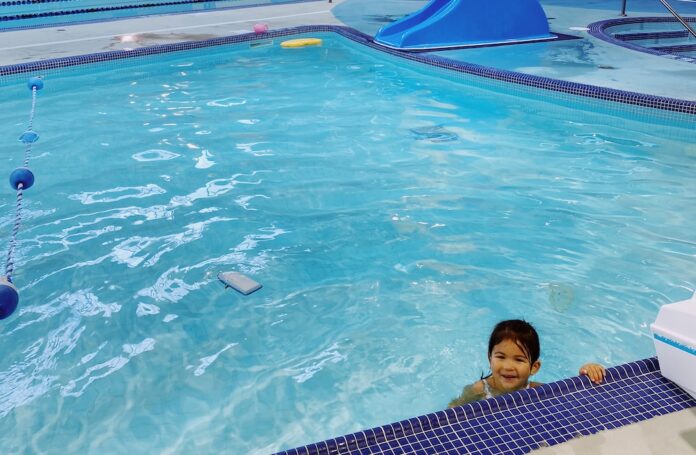 Both of my kids love swimming. Madi was taking swimming lessons prior to COVID-19 and George loves being in the kiddie pool. One of the family activities we have missed the most since COVID-19 is weekend spent swimming.
The swimming pool close to our home has recently opened again.  I wanted to do some research on the safety of swimming in public pools prior to our family swimming again. The CDC (Centers for Disease Control and Prevention) has stated that no evidence that COVID-19 can spread to people through recreational water.  However, it is important to continue to maintain social distancing when visiting pools, hot tubs and splash parks.
The chlorine or bromine that is used in the pool water for disinfecting should also inactivate the virus. However, it is important to note that chlorinated water should not be used alone as a surface disinfectant.  It is still recommended to use proper household disinfectants for cleaning surfaces in your home.
Deciding on whether or not you want to take your children to a public swimming pool is a personal choice.  There is no clear right answer, it is what you decide is best for your family. There are restrictions in place at the pool we attend that limit to two families in the pool and changeroom at one time. We decided to take both Madi and George swimming since we all love it. We make sure to bring hand sanitizer for anytime we touch communal surfaces and maintain social distancing.
This post was co-authored by Stephanie Liu, MD, MSc, CCFP, BHSc and Erin Manchuk, BScPharm, BCGP.